Festivāls "Prozas lasījumi" svinēs 20 gadu jubileju
Baiba Koemeca, 19.11.2015., 11:20
"Prozas lasījumi" aicina uz jubilejas festivālu, kas norisināsies laikā no 2015. gada 1. līdz 6. decembrim, vairāk nekā desmit pasākumos dažādās Rīgas vietās piedāvājot apmeklēt festivāla autoru lasījumus, literārās meistarklases un grāmatu atvēršanu svētkus.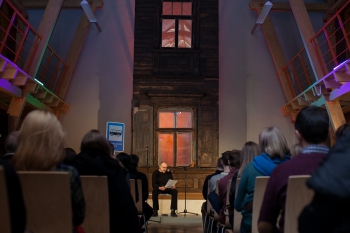 No nelieliem lasījumiem Andreja Upīša dzīvoklī 1995. gadā līdz daudzveidīgam literatūras festivālam 2015. gadā visā Rīgā – "Prozas lasījumi" 20 gadu laikā pārtapuši par vienu no centrālajiem literārajiem notikumiem valstī un kļuvuši par nozīmīgu ikgadēju atskaites punktu pašmāju rakstniecībā.
Šogad festivāls norisināsies divdesmito reizi un priecēs ar plašāku programmu, ļaujot autoriem un lasītājiem satikties aci pret aci ne tikai lasījumos, bet arī literārajās meistarklasēs un grāmatu atvēršanas svētkos, pulcējot gan pazīstamus Latvijas rakstniekus, gan jaunos autorus, kā arī īpaši aicinātus ārvalstu viesus.
Festivāla centrālie notikumi ir prozas darbu lasījumi, kuros literāti uzstājas ar vēl nepublicētiem prozas darbiem un tulkojumiem.
Līdztekus par tradīciju kļuvušajiem pasākumiem – "Prozas brokastīm" kafejnīcā Andalūzijas suns, ko tradicionāli pieskandinās mūziķis Juris Kulakovs, un "Prozas vakariņām" – norisināsies arī "Netikumīgo stāstu vakars", uz kuru autori aicināti sagatavot tēmai atbilstošus prozas darbus.
Norisināsies arī divi ārvalstu viesiem veltīti pasākumi, kā arī jauno literātu lasījumi no Latvijas Rakstnieku savienības paspārnē esošās Kultūras programmas "Literārā Akadēmija".
Tāpat ir padomāts par atsevišķu pasākumu tiem, kas vēl aug – jaunākā skolas vecuma bērniem un viņu ģimenēm Dabas muzeja aizraujošo ekspozīciju fonā.
Katru no priekšnesumiem vērtēs gan nozares profesionāļi, gan alternatīvā žūrija, veiksmīgāko jaundarbu autoriem festivāla noslēgumā piešķirot balvas.
Paralēli norisināsies literārās meistardarbnīcas, ko vadīs autori no Slovēnijas, kā arī tikšanās ar somu rakstnieci Rozu Liksomu un viņas grāmatas "Sestā kupeja" atvēršanas svētki.
Festivālu atklās 1. decembrī plkst. 19.00 koka ēku renovācijas centrā "Koka Rīga" ar iepriekšējo festivālu laureātu un atzītu autoru – rakstnieku Paula Bankovska, Ingas Ābeles, Jura Zvirgzdiņa, Māra Mikulāna un Kurzemes prozas lasījumu laureāta lasījumiem. Pasākumu vadīs un sildīs Improvizācijas teātra aktieri Krišjānis Berķis un Elīna Geide.
Savukārt vēl pirms festivāla atklāšanas norisināsies "Prozas lasījumu" iesildošais pasākums sadarbībā ar literatūras portālu "Punctum". Noslēdzot Rolāna Barta simtgades mēnesi, 27. novembrī plkst. 18.00 grāmatu un kultūrpreču mājā "NicePlace Mansards" žurnāls "Punctum" aicinās baudīt prozu, kas tapusi fotogrāfiju iespaidā, pasākumā "Iespaidu punktējumi. Fotogrāfija un proza". Autori: Jana Kukaine, Ieva Lejasmeijere, Nils Sakss, Vents Vīnbergs un Andris Kuprišs. Vakara vadītāja: Laura Brokāne.
Žūrijā šogad darbosies tulkotāja, prozaiķe un žurnāla "Domuzīme" satura redaktore Rudīte Kalpiņa, rakstniece Ilze Jansone, interneta žurnāla "Satori.lv" redaktore Antonija Skopa-Šlāpina, LU Humanitāro zinātņu fakultātes profesore Ieva Kalniņa un literatūrzinātnieks, LU Literatūras, folkloras un mākslas institūta pētnieks, žurnāla "Latvju Teksti" galvenais redaktors Jānis Ozoliņš. Paralēli profesionālajai žūrijai, autorus vērtēs arī alternatīvā žūrija – LU Humanitāro ziņātņu fakultātes Baltu filoloģijas bakalaura studiju programmas literatūrzinātnes apakšvirziena 3. kursa studenti.
Festivālu organizē biedrība "TARBA" ar Rīgas domes un Valsts kultūrkapitāla fonda atbalstu.
Ieeja visos pasākumos bez maksas. Vairāk informācijas: www.prozaslasijumi.lv.
uz ziņu sarakstu
Par HC.LV
HC.LV lietotājiem
Seko jaunumiem
HC.LV valodas
Citas saites
Aktualitātes forumā
Padalies priekā
I always spent my half an hour to read this webpage's posts daily along with a cup of coffee. Also visit my site ... standard double bed mattress size uk (https://1borsa.com/doublemattressuksale552692)
Clarice
Hello, yeah this paragraph is in fact good vw Key cutting And programming (https://gamedabong.net/forum/profile.php?id=306970) I have learned lot of things from it concerning blogging. thanks.
Danielle
Amazing this is a handy webpage. Look at my blog: dây lưng da cá sấu (https://wiki.snooze-hotelsoftware.de/index.php?title=Benutzer:LauraD263656)
Amos