Novērtē Red Bull Music Academy lounge Positivus festivālā un piesakies Red Bull Music Academy Londonā
Lana Daniela, 17.07.2009., 11:46
2009. gada 27. jūlijs ir pēdējā diena, kad var pieteikties radošajām darbnīcām Londonā Red Bull Music Academy, toties jau šajā nedēļas nogalē Positivus festivālā varēs novērtēt Red Bull Music Academy lounge.
Red Bull Latvija cer, ka, gūstot iedvesmu festivālā, daudzi Latvijas topošie producenti, instrumentālisti, vokālisti un dīdžeji pieteiksies Red Bull Music Academy Londonā, kuras dalībniekiem būs piee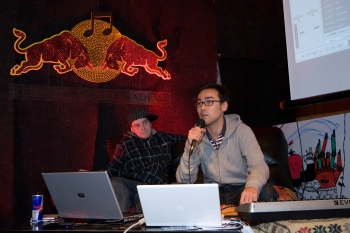 jams ne tikai studijas laiks, bet arī lekcijas, kurās varēs uzzināt atbildes uz katru muzikāli intriģējošu jautājumu, kas vien var ienākt prātā. Red Bull Music Academy meistarklases divu nedēļu garumā tiek rīkotas katrreiz citā pasaules malā – Romā, Sietlā, Melburnā, Toronto, Barselonā un nākamgad – Londonā. Akadēmijas profesionāļi piedalās lielākajos pasaules mūzikas festivālos, piemēram, Detroitas Elektroniskās Mūzikas festivālā, Vācijas Melt! vai Sónar Spānijā. Šogad pirmo reizi Red Bull Music Academy būs sava skatuve – Red Bull Music Academy lounge - arī Positivus festivālā, kas no 17. līdz 18. jūlijam notiek Salacgrīvā!
Kurš būs pirmais Latvijas pārstāvis RBMA?
DJ Monsta, kas piektdien, 17. jūlijā Positivus festivālā Salacgrīvā atklās Red Bull Music Academy lounge, ir viens no Latvijas jaunajiem talantiem, kas mēģināja iekļūt akadēmijā jau pagājušogad. Diemžēl viņam tas neizdevās, un neizdevās arī nevienam citam no Latvijas. Šogad viņš mēģinās vēlreiz. "Man ir par gadu lielāka pieredze, mēģināšu uztaisīt labāku mūziku. Iesniegšu ne tikai savu DJ mix kā pagājušogad, bet arī savu oriģinālmūziku, jo ievēroju, ka akadēmijā vairāk uzņem tieši tos, kas sacerējuši savus oriģinālgabalus." Viņš uzskata, ka Red Bull Music Academy ir iespēja satikt līdzīgi domājošos, un tas ir ļoti daudz, citādi sēdi mājās, darbojies ar savu mūziku, bet nedzirdi citus, kas nodarbojas ar to pašu. Akadēmija ir iespēja apmainīties ar viedokļiem, turklāt starptautiskā līmenī. "Arī akadēmijas pasniedzēji ir ko vērts, katrs no viņiem ir pasaules līmeņa meistars, turklāt arī audzēkņu sniegums ar katru gadu paliek arvien labāks."
Akadēmijas lektori pagājušajā gadā bija brazīļu nacionālā ikona un "tropicalia" vēstnieks Gilberto Gil, hip hop underground karalis - reperis Bun B, MPC arhitekts un pirmo digitālo bungu izveidotājs Rodžers Linns (Roger Linn), kā arī franču party stārteris DJ Mehdi. Ieskaties Red Bull Music academy mājas lapā www.redbullmusicacademy.com
kur ir pilns sarakts ar aptuveni 500 māksliniekiem, kas pabijuši akadēmijas lektoru godā.
Red Bull Music Academy radio
Pirmo reizi ieraksts no Positivus festivāla tiks atskaņots Red Bull Music Academy radio akadēmijas. Tā ir on-line radio stacija, kurā atskaņo pasaules labāko klubu un festivālu ierakstus, kā arī DJ setus un intervijas. Kas tāds Red Bull Latvija vēsturē notiek pirmo reizi! RBMA on-line radio var klausīties šeit: http://redbullmusicacademyradio.com
RBMA Lounge mākslinieki Positivus festivālā
Positivus festivāla ietvaros RBMA Lounge uzstāsies pasaules mēroga klubu mūzikas zvaigznes Seiji un Jack Beats no Lielbritānijas, kā arī labākie dīdžeji no Baltijas valstīm, ieskaitot bijušo RBMA audzēkni DJ Quest no Igaunijas.
Viens no galvenajiem Red Bull Music Academy lounge dalībniekiem, kas šogad priecēs festivāla apmeklētājus ar satriecošiem deju ritmiem, būs Jack Beats – duo no Londonas, pieredzējušo un godalgoto dīdžeju Beni G un Plus One garabērns. Jack Beats iemieso vislabāko, ko atnesis britu jaunās house mūzikas vilnis. Ietekmējies no tādām mūzikas personībām kā Timbaland, Rage Against the Machine, A Guy Called Gerald un Sebastian, duets izveidojis savu unikālu stilu, sapludinot house, hip hop, drum & bass un dubstep elementus. Šobrīd Jack Beats ir vieni no pieprasītākajiem remiksu producentiem. Viņu pazīstamāko darbu vidū ir Boy 8-Bit himna Fogbank, sadarbība ar Deekline and Wizard, nu jau klasiskais AC Slater remikss un neaizmirstamā Epic Last Song dziesmas Does It Offend You, Yeah? transformācija klasiskos popa ritmos. Viss, ko skar Jack Beats radošais gars, kļūst par tūlītēju klubu hītu.

Otrs galvenais mākslinieks, kas viesosies uz Red Bull Music Academy skatuves Positivus festivālā, būs DJ Seiji no Lielbritānijas, kurš savas muzikālās gaitas sāka kā čellists, taču, hardcore, jungle un house mūzikas savaldzināts, pievērsās producēšanai. Seiji radījis remiksus tādiem māksliniekiem kā Alicia Keys, Basement Jaxx, Erykah Badu un Crookers ft. Kid Kudi. Viņš ir arī Roisin Murphy albuma Overpowered producents un līdzautors.
RBMA Lounge programma Positivus festivāla ietvaros:
Piektdiena, 17. jūlijs
19:30 NiMo LIVE: Niks Gothams un DJ Monsta (LAT) (LV)
21:00 Turbo Rexxxa & Rough Luksus LIVE (FIN)
22:00 Dave Storm (EE)
23:30 Mr. Nestor (EE)
01:00 Seiji (UK)
03:00 Vidis (LT)
Sestdiena, 18. jūlijs
20:00 Boogaloo: Tomas Boo & Justas Fresh (LT)
22:00 Ki En Ra LIVE (EE)
23:00 Check One Two: Paul Oja & Quest (EE)
01:00 Jack Beats (UK)
03:00 AG & Raitis (LV)
Vairāk informācijas par RBMA hedlaineriem Positivus festivālā:
Jack Beats MySpace lapa http://www.myspace.com/jackbeats
Seiji MySpace lapa http://www.myspace.com/seijimusic
Vairāk informācijas par pieteikšanos Red Bull Music Academy Londonā:
http://www.redbullmusicacademy.com/

uz ziņu sarakstu
Par HC.LV
HC.LV lietotājiem
Seko jaunumiem
HC.LV valodas
Citas saites
Aktualitātes forumā
Padalies priekā
Pqafbas mdunsby@hybridge.com :
Qggcjzh
Zgtbhhf martin15@martins.com :
Gywhfuj
Yrrffao mdunsby@hybridge.com :
Gbjgcoh