Martā - jauns CD - Brass-a-billy
www.pitsandersons.lv, 11.03.2008., 12:40
Saplūdināt rockabilly un swing mūziku bija Pita ideja, kuru viņš kopā ar savu grupu "Arhīvs" realizēja jau 80.-tajos gados.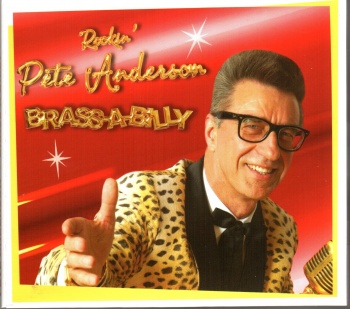 Šoreiz tā ir apvienojusies ar 21.gs. jaunajām idejām!
Ir dzimis jauns stils, jauns disks, kurš tā arī ir ticis nosaukts - par BRASS-A-BILLY - brass - pūšamie instrumenti, un -billy - no rockabilly.
Diska netkārtojamo noskaņu rada pūšamo instrumentu spēcīgā enerģija, slap kontrabasa un ģitāras nevaldāmais spēks, steel-ģitāras, vijoles, rhythm and blues mutes ermoņiku izcilie solo apvienojumā ar nestandarta sastāva orķestri! Un, pats par sevi saprotams, šim mūzikas stilam atbilstošs vokāls.
Grupu "Pete Anderson & The Archives", kas savulaik ar koncerttūrēm bija izbraukājusi gandrīz vai visu Eiropu, pelnīti var saukt par vienu no swing un rockabilly mūzikas stilu salikuma pamatlicējiem, kas piešķīra tai jaunu formu un iedvesmoja daudzus sekotājus.
Diskā ir arī multimēdiju daļa - Pita 1991. gadā veidotais Luī Prīmas (Louie Prima) dziesmas "Jump, Jive An' Wail" videoklips, kurš bija iekļauts filmā "Rock'n'Roll in Baltics" (režisors I. Linga), kas tika demonstrēta kinofestivālos visā pasaulē, tai skaitā arī ASV.

Kā bonusi ir iekļautas divas kompozīcijas grupas "Arhīvs" izpildījumā, lai klausītājiem rastos priekštats par to, kā "tas viss bija sācies".

Tomēr pati galvenā diska sūtība ir radīt Jums brīnišķīgu rockin' noskaņojumu!

"Hey Pete - I forgot to mention, for the benefit of everyone reading this!
You were 15 years AHEAD of the rest of the world…of Brian Setzer ,
with the concept of "big band rock & roll, and you had it up and running' in the 1980's!"
Bill Turner ("Bill Haley & His Comets"' ex-guitarist)

"I was very favorably impressed by the rockin' music thereon.
Great band, good singer. No frills, straight in your face rock `n'Roll.
Well done, sufficiently different to be of interest.
Thoroughly enjoyable and recommended.
This is a band that I shall go out of my way to see again."
Tony Wilkinson ("Now Dig This" magazine - January 2008)

"Caviar, caviar, caviar… too much caviar here!!!"
Heigo Mirka ("Rock Hotel" band leader & bassman)
uz ziņu sarakstu
Par HC.LV
HC.LV lietotājiem
Seko jaunumiem
HC.LV valodas
Citas saites
Aktualitātes forumā
Padalies priekā
Love the website-- very user friendly and whole lots %anchor_text (https://kickasscracks.com) see!
Magdalena
Exceptionally individual friendly website. Enormous details offered on couple of clicks on. my web-site - %anchor_text (https://www.oanlinecasino-korea.com/majorsite)
Clint
Great ⅼooking weƄsite. Think you did a bunch of your own html coԁing. My web-site; https://www.howtogrowyourpenis2014.com (%anchor_text (https://www.howtogrowyourpenis2014.com))
Rodolfo