Taps grāmata par izcilo Latgales kordiriģenti Terēzi Broku
Vita Viļevko, 07.10.2015., 13:05
Daugavpils pilsētas domes Kultūras pārvalde, sadarbojoties ar literāti un žurnālisti Annu Rancāni, ir uzsākusi darbu pie pētnieciskā darba veikšanas un materiālu apkopošanas, kas turpmāk tiks izmantots grāmatas par Terēzi Broku veidošanā.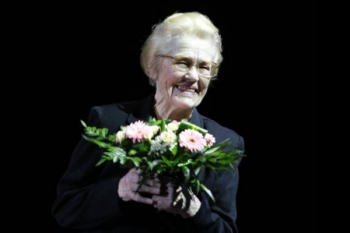 Patiecoties Valsts Kultūrkapitāla fonda mērķprogrammas "Latvijas valsts mežu atbalstītā Latgales kultūras programma 2015" atbalstam Daugavpilī tiek realizēts projekts "Pētnieciskā darba veikšana un materiāla apkopošana par Terēzi Broku un viņas ieguldījumu Latgales koru mūzikas attīstībā". Projekta mērķis ir nodrošināt Latgales kultūras mantojuma, vērtību, tradīciju saglabāšanu un attīstību, veicot pētniecisko darbību un materiālu apkopošanu par Terēzi Broku un viņas ieguldījumu Latgales kora mūzikas attīstībā.
Projekta realizācijas laikā tiek ievāktas mutvārdu un dokumentālās liecības, ko sniedz gan pati Terēze Broka, gan arī viņas kolēģi, koru dziedātāji, kultūras darbinieki, radi un citi cilvēki, kas kādreiz ir sadarbojušies vai sadarbojas ar diriģenti, kā arī atlasīti Rīgas Rakstniecības un mūzikas muzeja, Latvijas Valsts arhīva, St. Broka Daugavpils Mūzikas vidusskolas u.c. iestāžu arhīvu dokumenti un fotogrāfijas, iegūtais materiāls būs ļoti apjomīgs un daudzpusīgs, tādējādi ļaujot piefiksēt ne tikai mākslinieces biogrāfiskos faktus un atspoguļot viņas ieguldījumu Latgales kora mūzikas attīstībā, bet arī atklājot šīs unikālās personības daudzpusību.
Projekta realizētāji aicina izcilās diriģentes un pedagoģes skolniekus, kolēģus, laikabiedrus un citus interesentus iesaistīties materiālu apkopošanā un iesūtīt pieejamās liecības, fotogrāfijas par Terēzes Brokas radošo darbību. Materiālus priecāsimies saņemt līdz 2015. gada 1. decembrim uz e-pastiem anna.rancane@gmail.com vai vita.vilevko@daugavpils.lv.
Diriģente un pedagoģe Terēze Broka ir viena no radošākajām un izcilākajām personībām, kura ir devusi lielu ieguldījumu Latgales un Latvijas kultūrvides saglabāšanā un attīstībā. Bez viņas pēdējos 60 gados nav iedomājama Latgales kora mūzikas attīstība. Zīmīgi, ka tieši šajā, 2015. gadā, kad Latgales dziesmu svētki svin savu 75. gadadienu, savu 90 gadu jubileju svin arī Terēze Broka.
uz ziņu sarakstu
Par HC.LV
HC.LV lietotājiem
Seko jaunumiem
HC.LV valodas
Citas saites
Aktualitātes forumā
Padalies priekā
Your one-stop store to Asia's biggest intercourse location, find Tokyo adelaide escorts (https://7escortgirls.com/australia/), Brothels, Erotic Rubs, Blowjob Bars, Reel Groups, Sex Services and a whole lot more!
Vida
Hurrah! Finally I got a weblog from where I be able to actually get helpful data concerning my study and knowledge. Also visit my site :: renault key card repair near me (https://en.chinazi.wiki/wiki/How_To_Really_Car_Door_Lock_Repair)
Ana
Why people still make use of to read news papers when in this technological world everything is existing on net? Take a look at my website :: Aluminium Double Glazed Windows Prices (https://sportscardwiki.com/index.php?title=User:Dakota0503)
Katlyn